Apostle Graham
Biography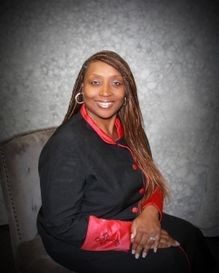 Commitment to God's Will
D'Jamildo Graham is committed to the will and way of the Lord. She has not wavered in her faith or obedience to His word. She remains "steadfast, unmovable, always abounding in the work of the Lord, knowing that her labor is not in vain in the Lord" (1 Cor. 15:58 KJV) and she challenges others to submit to God's will and His way. Currently, Apostle Graham resides in the Midwest with her husband and her four children.
From humble beginnings to Education
Born and raised in Temple, Texas, Apostle Graham has earned a Bachelor's degree in psychology, Bachelors in Criminal Justice and her Masters in Biblical counseling. She is also actively working on her second Masters in Biblical Education. Having a background in the world while obtaining multiple advanced degrees and experiences have allowed her to continue to advance God's Kingdom.
Service and Steadfastness
She has served as an assistant to other pastors in their ministry; but then God called and she answered, "Yes to your will and Yes to your way; My heart, my mind, my body, and my soul, say Yes."
Purpose
Apostle Graham is able to minister to a wide range of God's people. Through old school revivals hosted in the park or at local community centers, Apostle reaches those who do not ever see themselves stepping foot into a church house. With this versatility, she travels all over the United States six months out of the year to preach and teach the word of God to the lost, hopeless, and broken vessels. She too believes that there is nothing that is too broken to that God cannot put back together. She is the living testimony that though we may be broken, we are not shattered. Apostle Graham continues to make her way to the ends of the earth to tell people about the true love and character of God.